Marriages of Hindu, Muslim, Sikh & Christian couples were solemnized in a grand ceremony
Organized since 2004 till date, 1010 couples have been blessed
Sahara India Pariwar, a major business conglomerate, today solemnized 101 marriages of girls coming from the weaker section of the society, in its annual event 'Samuhik Vivah Samaroh'. The Samaroh is organized every year by Sahara with huge fanfare at Sahara Shaher, Lucknow. The event witnesses 101 weddings of underprivileged girls from different religions, performed at one common venue. This year, 90 Hindus, 4 Muslims, 4 Sikhs and 3 Christian couple tied the knot on this auspicious occasion. The Samuhik Vivah Samaroh is being organized since 2004 and this is its 10th consecutive year. Till date, 1010 couples have been blessed.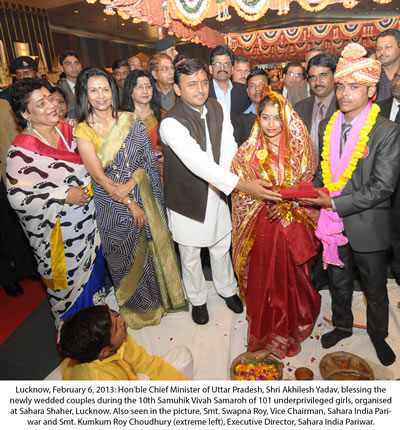 Caught still in 1914 make Panoramic Camera
One of the attractions of Samuhik Vivah Samaroh every year is the 1914 made special American Panoramic Kodak Still Camera used to capture 101 couples and their families in a single photograph. The camera can rotate up to 360 degrees and produces a very sharp image of the object. The camera uses a 10×7 inches negative specially made for the camera and which is bought from Eastman, New York.
For Samuhik Vivah Samaroh, Sahara India Pariwar invites photographer Mr. Anuj Dutt from Delhi to click this photograph of 101 couples by his antique and unique camera at Sahara Shaher. The camera is also used to take pictures of newly elected Lok Sabha and Rajya Sabha members.
For the 101 marriages every year, Sahara invites applications from bride and groom families who can not bear the cost of marriage by themselves. After verification process, the applicants are included for the Samaroh. All the marriage arrangements like fooding, clothing, lodging of the relatives, Welcoming of the Baraat, Kanyadaan, 101 Mandaps, etc. were made by Sahara India Pariwar. In addition to this, Sahara also helps all the newly wedded couples in initiating a new life. For this, Sahara gifts Rs. 2 lakh worth of basic household items to each couple. The gifts consist of Color Television, Refrigerator, Almirah, a double-bed, dressing table, jewelry, Suits to the groom, Sarees to the bride and wrist watch for both. Sahara even takes care of the delivery of these gifts at the couple's house.
On this occasion, Hon'ble Governor of Uttar Pradesh, Mr. B.L. Joshi, Hon'ble Chief Minister of Uttar Pradesh, Shri Akhilesh Yadav, Mayor of Lucknow, Dr. Dinesh Sharma and Shri Naresh Aggarwal, blessed the newly wedded couples. Also, Reverend Smt. Chhabi Roy - Mother of 'Saharasri' Subrata Roy Sahara, Smt. Swapna Roy, Vice Chairman, Sahara India Pariwar, Shri Ashok Roy Choudhury, Executive Director Worker, Sahara India Pariwar and Smt. Kumkum Roy Choudhury, Executive Director Worker, Sahara India Pariwar.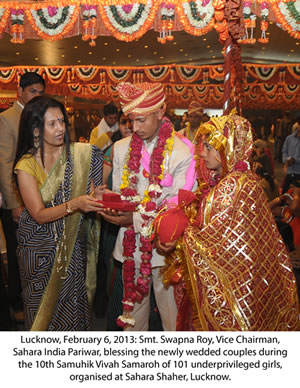 The whole ambience of Sahara Shaher was made enchantingly beautiful with decoration of flowers and Rangoli, amidst chants of marriage hymns with Shehnai being played in the background. Relatives danced with joy & revelry and had a feast of different dishes. The marriages of various communities were solemnised by the renowned priests of their respective communities.
The Samaroh was conducted amidst a gathering of distinguished invitees and Kartavyayogi workers of Sahara India Pariwar, who extended their heartiest greetings to the newly wedded couples. This was followed by lunch organized for the newly wedded couples, their families and guests.
The newly wedded couples were bestowed with a photograph that featured all the 101 couples. The camera used for capturing this golden moment is the 1914 made special American Panoramic Kodak Still Camera which can rotate upto 360 degrees and produces a very sharp image. The same camera is also used to take pictures of newly elected Lok Sabha and Rajya Sabha Members.
——————-
Sahara India Pariwar is a major business conglomerate in India with operations in multiple sectors, including financial services, life insurance, mutual funds, housing finance, infrastructure & housing, print and television news media, entertainment channels, cinema production, consumer merchandise retail, healthcare, hospitality, manufacturing, sports, and information technology.
Sahara India Pariwar has always been prompt in its services towards the nation and its nationals who have sacrificed their lives at the altar of nationalism. Sahara India Pariwar's commitment to Social Welfare is evident from the fact that 25% of its profits every year are dedicated towards social development activities. In fact, it's the firm conviction of the Chief Guardian of Sahara India Pariwar, Hon'ble Saharasri, Subrata Roy Sahara that every organization, along with its own development and progress should also contribute towards the cause of the society and the nation at large.
Sahara also works on various Health programmes, including Mobile Healthcare Units, under which 52 medical vans across the country are running 30 days a month, throughout the year, taking free primary healthcare services to the remotest rural areas where medical services do not exist. Besides this, Sahara also works on various programs on Nutrition, Literacy, Vocational Training, Civic Development, Behavioral Change, Communication and Rehabilitation of the Physically Challenged People.
Under its Disaster Management initiatives, Sahara has always stood up in the need of the hour of the country, be it super cyclone of Orissa, earthquake in Gujarat, drought in Rajasthan or floods in the state of Uttar Pradesh and Bihar. Sahara has adopted Bhimasar-Chakasar village in Taluka Anjar, District Kutch for relocation, rehabilitation and reconstruction of the village along with basic amenities, panchayat ghar, bus stop, post office, play ground, primary and secondary school and street lights. When the devastating earthquake hit Latur district of Maharashtra, Sahara India Pariwar came forward to rehabilitate the earthquake stricken citizens of the region and also developed a cluster of earthquake houses in Killari Village in Latur, The houses were handed over to the villagers by Reverend Mother Teresa.
Sahara is also providing monthly financial assistance is also provided to the families of the Martyrs of the Mumbai Nov '08 terror attack, Dantewada Massacre and to the families of Kargil War Martyrs. Today, it provides, monthly financial assistance to 320 families of martyrs.
सुरेन्द्र अग्निहोत्री
[email protected]
[email protected]